Browse Categories
Certifications
Subscribe

Get email updates on new products
New Arrival
Contact us

Tymin Industries Limited
TEL: 86-755-28571380
FAX: 86-755-28572898
Website: www.tyminphone.com
Email: sales@tymin.comContact Now
Call History Office Use Caller ID Display Speakerphone (TM-PA005A)
Model: TM-PA005A
Type: Basic Caller ID Phone
Material: ABS mainly
Color Available: Black or Customized
Logo Printing: our logo "Tymin" or Customized
Gift box size: 25* 23* 6.5 CM
Net Weight: 0.64 KG
TM-PA005A Corded Caller ID Telephone supports versatility and style with the Caller ID Display - to show you the incoming number and offers 11 groups one touch memory for speed dial.
Supporting Caller ID Display and with the Real Time feature allows you to keep track of the time while you are on that important call. With desktop feature and hold button and on hook Dialing, this is an ideal corded solution for both home and small office use.
This modern designed phone has many great features including Speakerphone for hands-free communication, ringer volume control adjustment.
The TM-PA005A is Operational Even Under Power Failure Conditions, even under those unexpected power failures which is essential or alternatively you can use it . This product is designed and engineered by TYMIN providing the most superior sound quality that a corded phone has to offer.
Features:
* Corded telephone with caller ID function
* Max 38 groups incoming calls memories in 16 digits
* Max 16 groups outgoing calls memories in 16 digits
* 11 groups one-touch memories
* 8 digits local area code filter
* 16 groups ringer melodies selectable
* 5 levels LCD adjustable
* Ringer volume adjustable
* Hold function
* Speakerphone for hands-free communication
* Desk or wall mountable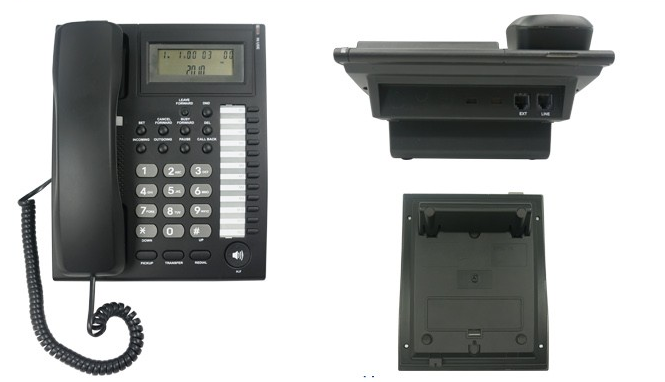 Other Products