Browse Categories
Certifications
Subscribe

Get email updates on new products
New Arrival
Contact us

Tymin Industries Limited
TEL: 86-755-28571380
FAX: 86-755-28572898
Website: www.tyminphone.com
Email: sales@tymin.comContact Now
The mini GPS tracker & alarm with SIM-changing alert function (TM-SV8)
Model: TM-SV8
Type: GPS Real-time Tracker
Material: ABS mainly
Working temperature: -20℃ ~ +70℃
Working humidity: 5% ~ 95% RH
Host size: 4*3.4*1.4cm
Host weight: 0.24KG

About the item:
TM-SV8 is a super mini GPS device, its size is 4*3.4*1.4cm and its weight only is 24g.It has lanyard design, battery inside, longtime standby and free installation for convenient use.
The mini GPS device with anti-theft alarm and vibrating sensor & sound sensor burglar alarm inside.It can
real-time monitoring the safety of car & property, guard property from violation.
When the SIM card is changed the tracker will send SMS message to the master-control phone number.
Keep away from harm all the time.
Product specification:
*Low power consumption chip design
*GPS Positioning accuracy: 5-15m
* GSM network: 850/900/1800/1900MHz Work with all GSM network
* GPRS standard: Class 12, TCP/IP
* 360° tracking way :SMS,internet,Android APP, Apple App, we chat
* Trajectory playback
* Geo-fence
* click for SOS help / click for call
* 3 modes to answer incoming call:push-to-talk/auto-answer /silent monitoring:
* low battery alert
* change SIM alert
* super long-time stand-by, up to 300 hours
* Working temperature:-20℃ ~ +70℃
* Working humidity: 5% ~ 95% RH
Details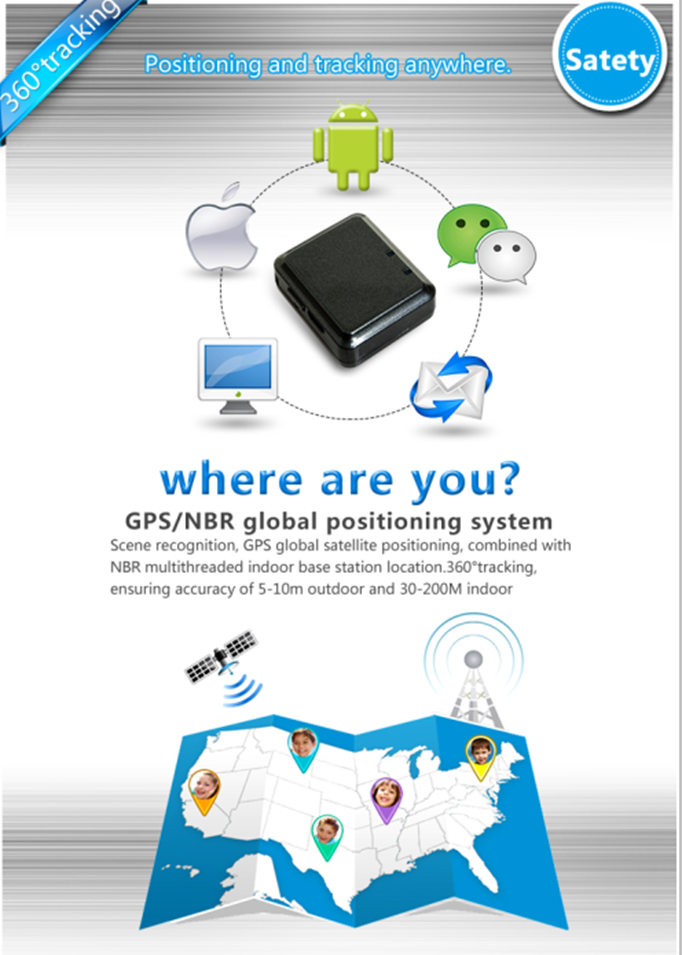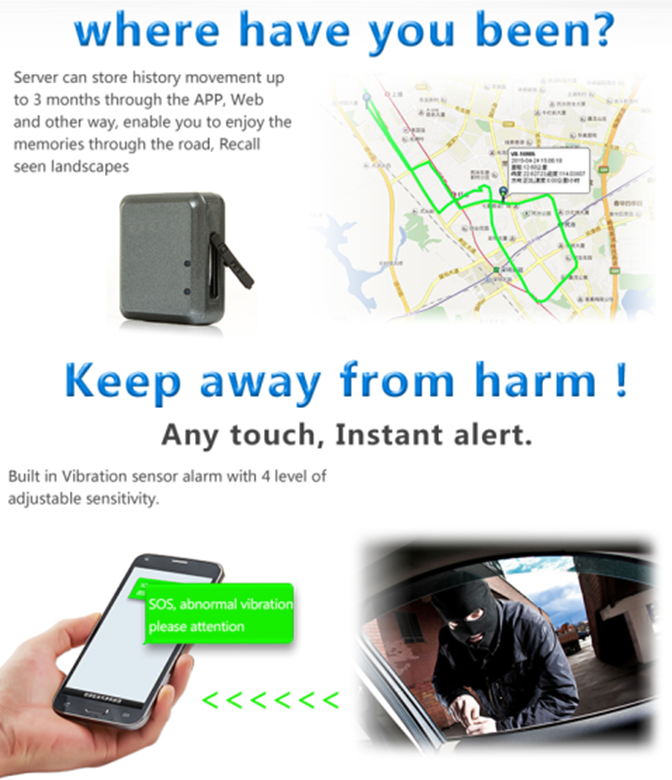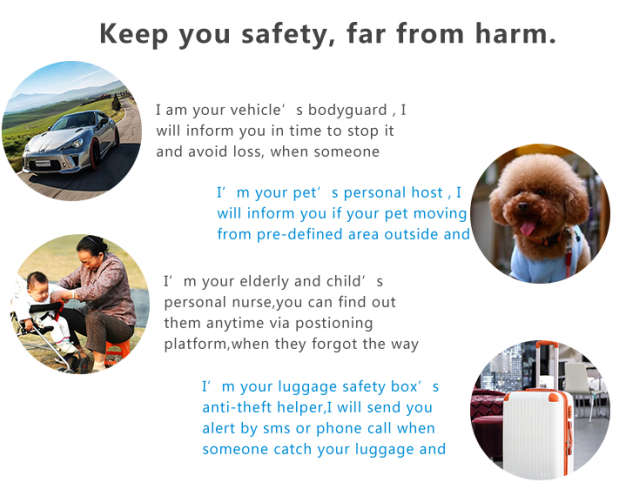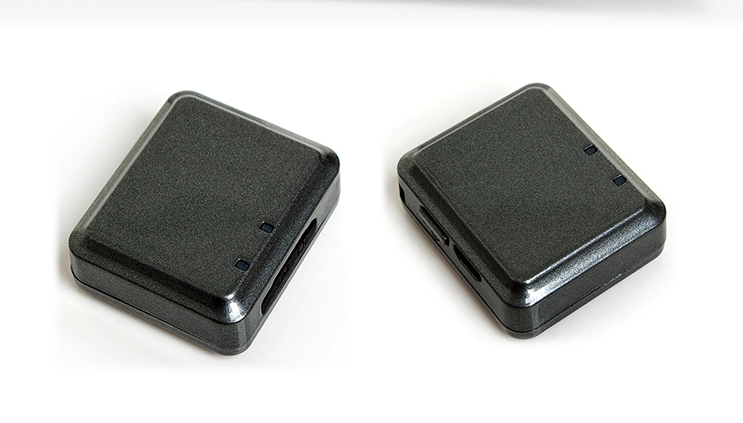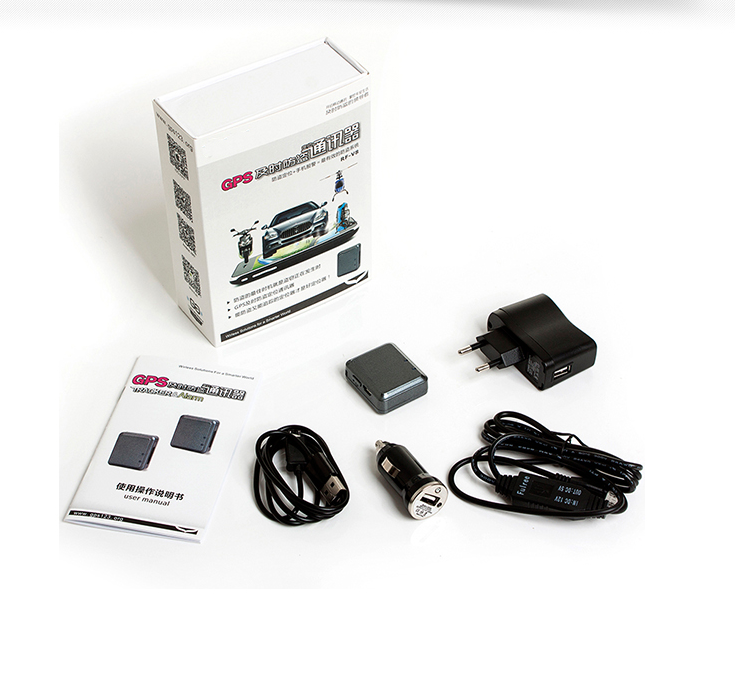 1. By International Express (DHL, UPS, FedEx ect), 5~10 days;
2. By Air transport
3. By Sea ( If you do not have shipping forwarder, our shipping forwarder could ship the goods to you with competitive price)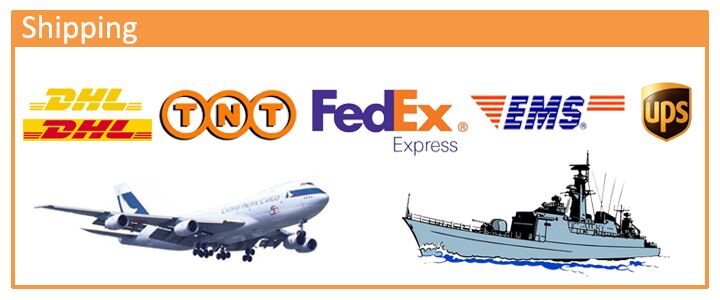 Remark:
1. The tracker will boot automatically when it was charging.
put the tracker in network signal better position when use.
2. The new machines need to be recharged for 2-3 hours before use in order to achieve the best results, please use our distribute charger avoid damage to the host.
3. Standby time:
1) Upload location data every 10 minutes, the standby time is 50 hours, talking time is 5-8 hours (Actual test)
2) Turn off GPRS, the standby time is 300 hours, about 12 days .
Note: Above test data is under the status of strong GSM network
Please charging and boot with SIM card, the device will automatically reboot when it can't search GSM network.
This product is not waterproof, please pay attention when using.
GPS data upload time interval,factory default setting:10 minutes.
FAQ
Q: After inserting a SIM card, it can make a call, but it display not enable on the platform and APP
A: Please check that SIM Card has opened GPRS.
Q: In the DO NOT DISTURB mode, why any phone can call in?
A: Please check that SIM Card has opened caller ID.
Q: Device show online, but it shows "wait for the device responses" when you set instruction with APP.
A: a. Device signal is not good, so not smooth result of GPRS
b. Device is busy.
Q: The SIM card has opened GPRS function, but the device still not online
The tracker have pre-program all most APN, maybe the APN of the SIM card you use don't preset in the tracker, please set SOS1 number first and then send command to add you APN into the tracker.
Other Products