Listening room at the 1881 Paris Electrical Exhibition
Tyminphone www.tyminphone.com 2016-10-12 21:20:59
   The introduction of the telephone in the mid-1870s included umerous demonstrations of its use for transmitting musical concerts over various distances. In one particularly advanced example, Clément Ader prepared a listening room at the 1881 Paris Electrical Exhibition, where attendees could listen to performances, in stereo, from the Paris Grand Opera. The concept also appeared in Edward Bellamy's influential 1888 utopian novel, Looking Backward: 2000-1887, which foresaw audio entertainment sent over telephone lines to private homes.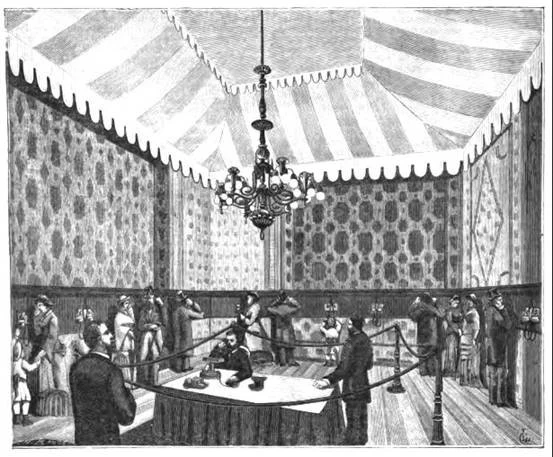 The initial scattered demonstrations were followed by the development of more organized services transmitting news and entertainment, which were collectively called "telephone newspapers". (The term "pleasure telephone" was also sometimes used in reference to the more entertainment-oriented operations.) However, the technical capabilities of the time — vacuum tube amplification would not become practical until the 1920s — meant that there were limited means for amplifying and relaying telephone signals to multiple sites over long distances, so service areas were generally limited to a single jurisdiction, and in most cases listeners needed to use headphones to hear the programs.
   During this era telephones were often costly, near-luxury items, so subscribers tended to be among the well-to-do. Financing for the systems was normally done by charging fees, including monthly subscriptions for home users, and, in locations such as hotel lobbies, through the use of coin-operated receivers, which provided short periods of listening for a set payment. Some systems also accepted paid advertising.
   While some of the systems, including the Electrophone, built their own one-way transmission lines, others, including the Electrophone, used the existing commercial telephone lines, which allowed subscribers to talk to operators in order to select programs. Programming often originated from the system's own studios, although outside sources were also used, including local theaters and church services, where special telephone lines carried the transmissions to the distributing equipment. In two cases, the Electrophone and the Herald Telephone, the systems were later merged with radio station operations, becoming relays for the radio programs.
   Tymin Industries Limited founded in 2003, is a leading telecommunication products manufacturer and OEM/ODM electronic products manufacturer in China. Our main products are corded phones, SOS emergency phone, call blocker, key finder, fixed wireless phone and GPS tracker. Making communication simpler, safer and healthier is our mission! The following images is part of our company's products. For more details for our products, please just feel free to contact us.