Antique phone still quietly popular
Tyminphone www.tyminphone.com 2016-11-22 20:04:34
With the growing popularity of urban nostalgia, nowadays an old vintage looking for and collection of telephone "old retro design antique phone" is quietly rising on the beach.
China antique telephone, that is, from the beginning of the last century to the early '60s "master-style" telephone, the Shanghai people call it "call antique." It is understood that the current is relatively easy to find is widely used in the domestic rotation of the system of black wooden desktop phone, the current price of 350 yuan per 550 yuan. At the same time used in the wall-mounted telephone, due to the rare price several times higher, each price of 2,000 yuan or more. As for the 40's of last century, the production of magnet-type single-function telephone, the shell with wood and leather as raw materials, the Department of hand-made, due to age with a small amount of survival of the world, each priced at more than million.
It is understood that these "call antique" is called the best, it is necessary to count the number of Tymin Industries Limited' s products.(China antique phone manufacturer) Most of these old style series of telephone as a shell of brass, copper and bakelite supporting the use of words, then line with colored thread twisted braid, the overall look of simple elegance of the present style, the survival of the world very few, the price of natural a lot of money , Now in a state without a price.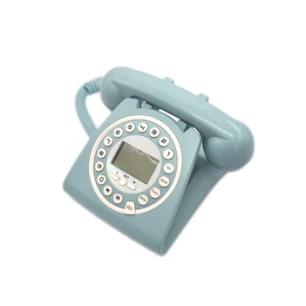 Recently, Shanghai has a telephone collector, from an antique market spent tens of thousands of dollars, the purchase of a late Qing Dynasty microphone type phone, a collection of Shanghai news. But a few days, was a tour of Shanghai to the European antique dealers that the foreigner shameless and asked to find the map to find its home, expressed a willingness to a higher price of the re-acquisition, was the Tibetan politely declined . The foreigner shrug shrug helpless, and finally made a request to own a hold this "call antique" stay a shadow, the request of course to meet.
Due to the number of old-style phones left in Shanghai folk is not much, making a lot of collectors will look to the field, they have to use rest days or holidays, drove out of Shanghai around the city's antique market to "find treasure" Take the trouble to string the streets to go, visit the door when they lightly asked whether there are "classic" antique phone.