TELEPHONE-INSTRUMENT ANTIQUE/HISTORY
Tyminphone www.tyminphone.com 2016-10-25 20:14:07
Telephone desk set from 1897. (This is most likely a handout photo or copy shot of a historical phone. Printed on June 7, 1988.)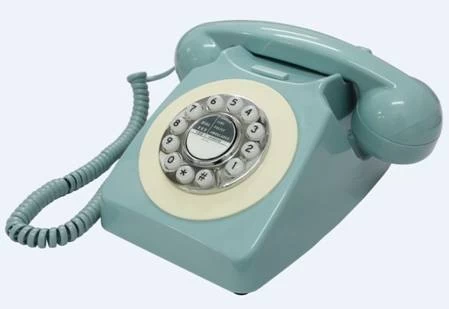 It's probably safe to assume that shortly after man first harnessed the power of fire, someone committed the first act of arson. And so it has gone with every great innovation in history. Great leaps of technology usher in new crimes, which require new laws that unleash new struggles over enforcement.
The invention of the telephone in 1876 marked a new telecommunications era that eventually changed virtually everything, from business transactions to warfare and romance. And, of course, crime. In 1904, Chicago got an early taste of how the competing interests of security and privacy would start to play out for law enforcement and the telecom industry — in an episode with echoes of today's dispute between Apple and the FBI, over information that might be gleaned about the attack in San Bernardino, Calif.
At the turn of the 20th century, telephones were still a novel technology and gambling — not terrorism — was a top police priority. Chicago police and city officials trying to stop illegal gambling faced off with the Chicago Telephone Co. over issues of security and privacy.
Of course, telephones in 1904 were primitive compared with today's smartphones. There was nothing smart about them, and they were dependent on human operators to connect calls. But telephones were already revolutionizing how people communicated. It was easier than ever to convey information in an instant across great distances.
Tymin Industries Limited founded in 2003, is a leading telecommunication products manufacturer and OEM/ODM electronic products manufacturer in China. Our main products are corded phones, SOS emergency phone, call blocker, key finder, fixed wireless phone and GPS tracker. Making communication simpler, safer and healthier is our mission! The following images is part of our company's products. For more details for our products, please just feel free to contact us.