Scottish independence Killers fail to win referendum vote
Tyminphone www.tyminphone.com 2016-11-14 21:44:33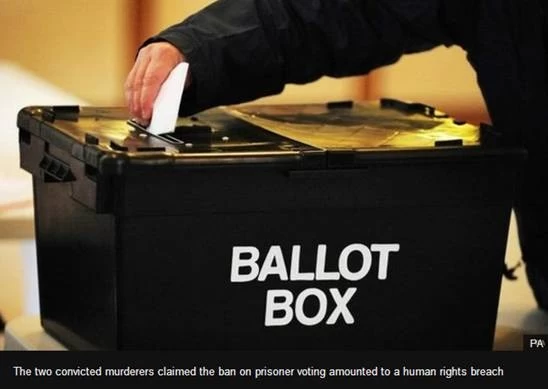 Two killers have lost a legal bid to allow serving prisoners to vote in the Scottish independence referendum.
Convicted murderers Leslie Moohan and Andrew Gillon claimed the ban amounted to a human rights breach.
But judges at the Court of Session in Edinburgh rejected an appeal brought forward by the pair, ahead of the 18 September vote on Scotland's future.
The decision came after Judge Lord Glennie previously ruled against the prisoner voting bid.
Lawyers acting for Moohan and Gillon said Lord Glennie misdirected himself in making his decision.
But the judge's conclusions have now been upheld by Scotland's most senior judge, Lord President Lord Gill, along with Lady Paton and Lord Menzies.
Scots-born Gillon and Moohan - sentenced to life imprisonment in 1998 and 2008 respectively - said their right to freedom of expression under Article 10 of the European Convention of Human Rights protected the right to vote.
They argued the right had been breached because of the blanket ban on convicted prisoners voting in the referendum.
Spade attack
But Lady Paton, who issued the decision on the appeal, said: "We take the view that there is no clearly identifiable common law fundamental right to vote in the UK and certainly not a clearly identifiable common law fundamental right to vote in a referendum.
"Thus, in our opinion, no such right is contravened by the Scottish Independence Referendum (Franchise) Act 2013."
Gillon was jailed for the murder of Gary Johnstone, 25, who suffered repeated blows to the head with a spade in Bathgate, in West Lothian.
Moohan was ordered to serve a minimum of 15 years after murdering father-of-two David Redpath, from Peterhead, at a hostel in Edinburgh.
manufacturer and OEM/ODM electronic products manufacturer in China. Our main products are corded phones, SOS emregency phone, call blocker, key finder, fixed wireless phone and GPS tracker. Making communication simpler, safer and healthier is our mission!
For more details for our products, please just feel free to contact us.